UPDATE OF SERVICES
In accordance with the government advice, all our face to face activities are  temporarily suspended. For information about our current online services please refer to the 'Support during COVID-19' page.
---
Saturdays, 10am – 12 noon; Sundays 11am – 1pm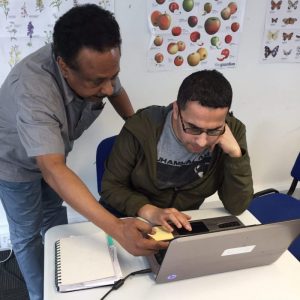 Our Welcoming Digital Skills programme will help you to make good use of computers for everyday life in Scotland. You will learn to:
set up an email address
send and receive emails
do internet searches
online shopping and banking
paying bills online
keeping safe online
using Microsoft Office applications
Aimed at Arabic speakers, the classes will help you to transition from using an Arabic keyboard and interface to an English one. There is no English language requirement to take part.
The classes are facilitated in Arabic and English by our friendly and expert tutor, Saad Ibrahim.
These classes are a great opportunity to develop new skills, gain confidence and enjoy the group experience! Spaces are limited, so if you would like to join in, please contact us first to enquire about availability.
Welcoming Digital Skills is generously supported by Skyscanner.