Potatoes are loved by many and used in almost every kitchen in the world -but how can we use them creatively? Come along for a special Creative Space session led by artist Kate Temple where we will play potato games, do potato challenges and use this staple root vegetable to get creative (and probably a bit silly!). Bring a potato dish to share -there will be a prize for the best potato dish! Saturday 27th April 12-4pm at Creative Space
Every Saturday, 12pm – 4pm.
Enjoy your choice of creative activities in our fabulous fifth floor classroom with skyline views over Edinburgh!
Arts – drawing, painting
Crafts – knitting, crochet, hand sewing
Board games
Reading and writing
Digital skills
Arts and craft materials, a selection of board games and access to a computer will be provided. Creative space is a shared space, so we ask that your choice of activity does not disturb others – ie not too noisy and not too messy! Drop in, no need to book. Refreshments (fruit, biscuits, tea and coffee) will be provided. Space is limited, so we will operate on a first come, first served basis each week. Please see the Creative Space Ground Rules for further information about how the sessions will run.

We look forward to seeing you there! Many thanks to the Big Lottery Awards for All Scotland for funding this activity.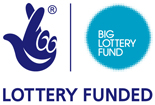 Here are some scenes from recent Creative Space sessions: