Advice, information and job coaching
Tuesday, Wednesday& Thursday 3-5pm at The Welcoming
Do you need support with applying for jobs? Would you like to find out more about working for yourself and setting up a business in Edinburgh? Leon, our Employability and Entrepreneurship advisor, is here to help! Leon can support you with all aspects of employability including confidence building and communication skills, CV development, job seeking skills, interviews, finding training and volunteering opportunities, understanding work cultures and a lot more. His aim is to make your experience of settling in to Edinburgh and finding employment as positive as possible. Common areas of support include:
Help with CVs
Job application forms
Practice interviews
Leon can also get you started with the process of setting up a business in Edinburgh by signposting you to specialist advice and putting you in touch with people who have 'been there and done it!' Drop in to see Leon between 3-5pm on Tuesdays, Wednesdays and Thursdays – no need to book. To book an appointment, please visit The Welcoming Office, phone 0131 346 8577 or email leon@thewelcoming.org . Please advise him of your name, email address, phone number and the type of support you would like. Note that you are welcome to book a practice interview even if you don't have a specific interview lined up – it's a great way to become familiar with the interview process and to improve your English along the way. If you are coming for support with employability, please always remember to bring your CV if you have one. If possible, please also bring an example or two of a job you would like to apply for. This will allow Leon to help you tailor your CV to a specific job – always a much more successful strategy than a generic approach.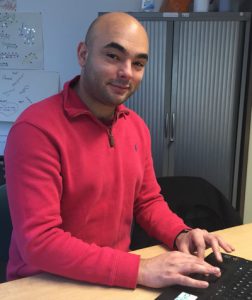 Here is a message from Leon: 'Hello everyone, these appointments are designed to help you move forward with your life in Edinburgh. I myself moved to Edinburgh from Cambridge back in 2009, so I know how difficult it can be to move to a new place, far away from home and need support and guidance when looking for work. The current employment situation here is very competitive. I won't find a job for you, but I will do everything I can to help you succeed in your job search – for example, I can help you to prepare effective applications and to perform as well as you can at interviews. I will offer you challenges, deadlines and encouragement along the way and, as far as possible, make it a fun and interesting experience! Please also see my Top Tips for other services and resources that can help you with job hunting in Edinburgh. I look forward to working with you!'
Here is feedback from some of our students who have attended sessions with Leon:
'It has been so useful to learn strategies for job interviews, and to talk about my CV. Leon was really clear and patient. A good and useful experience. A lot of thanks!'
'He helped us so much to know how to make a CV and know the usual questions that appear on the interview.'
'The session was very helpful about updating my CV and I learned a lot about how to write a covering letter. I'm really grateful!'
'I have learned how to be less afraid of telephone calls!'
'It was a useful session for me because I arrived to Edinburgh one month ago. I learned a lot of things to find a job.'
'It has been very helpful because I have been able to develop my last job information and Leon has made me see it clearly. Everything you do is really helpful! Thank you!!!'