Mohamed Albaz arrived in Edinburgh as a refugee from Palestine via a temporary holding situation in Plymouth.
Mohamed was soon introduced to The Welcoming Association where he received employment support and English classes, and got involved in a range of activities as part of The Welcoming community.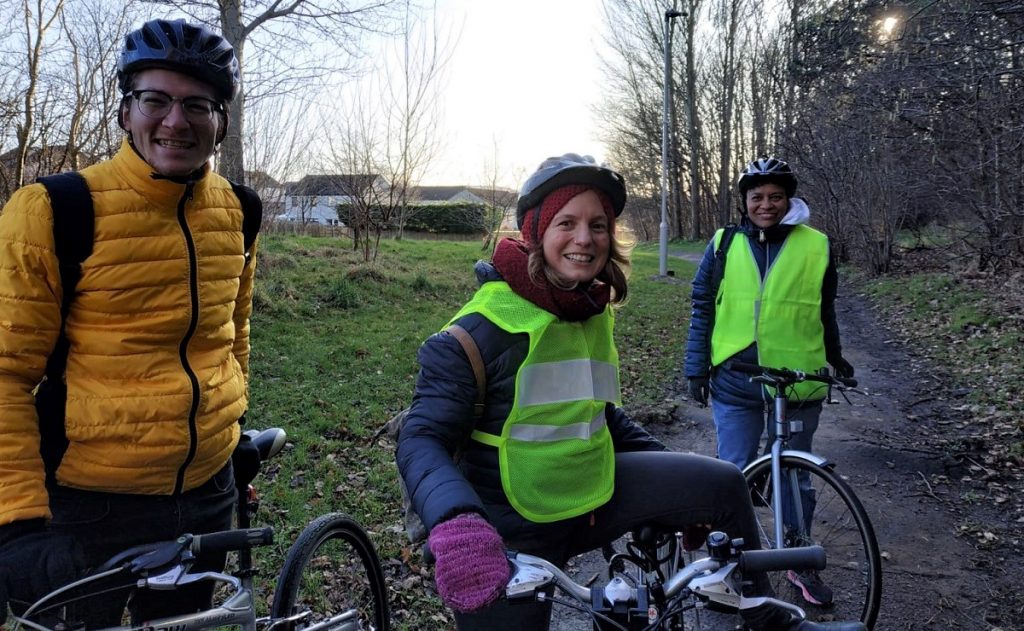 I came to Scotland, Edinburgh, without having any knowledge about the people, the place, the local services available, jobs, the educational system, just nothing.

I sought help and heard good things about The Welcoming. This place has been simply marvellous.

Mohamed Albaz
Introduction summary
When Mohamed first arrived in Edinburgh and joined The Welcoming, there were issues that clearly had to be overcome, including low confidence and social isolation.
He had an anxious, concerned outlook, being completely new in Edinburgh and having just gone through an arduous process of moving from Asylum Seeker to Refugee.
He had no work, limited funds, low self-esteem, low English skills, no friends, and an empty – and sometimes scary – residence to stay in.
Quiet and despondent, he had no clear vision for his future or how to change his life circumstance for the better.
Situation
For the Welcoming Association's Community Capacity Development Coordinator, David Allan, a central aspect of his work is helping people settle and integrate into the community.
Employment support here works to short-term and long-term goals. The key to this is strategic first appointment action planning. Here we get a person's dream, their ideal, and talk through the stages to achieve it and eliminate barriers.
This was done with Mohamed, where we had to address his isolation, stress, language level, employment situation, career and life concerns. We had to integrate Mohamed into the community and create hope, positivity, financial security and well-being.
What we did
We set-up English classes for Mohamed, encouraged self-study, explained how our Wee Blether and Conversation Café sessions will help with language, friends, networking and confidence.
We explained how external activities such as the Edinburgh Meet Up and volunteering could similarly help, providing sites, links and options.
What I like most about the Welcoming is the amazing environment. It is warm and friendly, everyone supports each other.

Mohamed Albaz
We supported Mohamed with his CV's, letters, statements, job searching. We provided support with applications, suggested training and volunteering opportunities, all of which helped with his self-esteem, confidence. We coached and arranged mock-interviews, provided career advice and helped keep focused and positive on difficult days.
We helped Mohamed understand the education system/structure in Scotland, IELTS scoring, qualification equivalents and made him aware of other support services for refugees.
The Welcoming has many activities to combat isolation and improve well-being, and Mohammed got involved in many: helping out at our Lunch group, joining our health activities, such as cycling trips and helping out at our Sustainable Garden.
Result
Mohamed gained fulfilling employment providing research, fundraising and service support for a reputable and ethical employer, his wish.
He secured volunteering and continues to do this today as he sees the benefits for his career and health.
Crucially, he is settled, happy, has made many friends and social networks. He is confident, friendly, always smiling and visits the Welcoming when possible.
Now, I happily have work and recently applied to study thanks to The Welcoming, especially David who spares no efforts to support and encourage me!

Mohamed Albaz
He had a dream to study at University here in Edinburgh and build a career from this. He worked diligently – self-study, class study, friends and social activities – and got his IELTS score to the required entry level.
The Welcoming has continued to support him with his dream. Mohamed recently applied for an HNC qualification at Edinburgh College and he will be starting in September 2020. On completion, he gets access to University.
Mohamed could not be happier with Edinburgh right now and how his situation has developed. Crucially, he has hope, aspirations and exudes positivity.
From war-torn Palestine to finding a welcoming community in Edinburgh