Welcoming a Greener Future is an exciting project, funded by the Scottish Government Climate Challenge Fund, that aims to raise awareness about climate change and assist migrant and refugee communities living in Edinburgh to save energy and reduce their carbon footprint.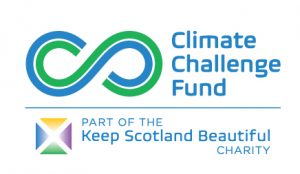 Our focus for 2017-2018 is on supporting the newly arrived Syrian refugee community in Edinburgh to develop skills and understanding in relation to home energy efficiency and recycling in the home.
We will also continue to support all Welcoming participants to tackle climate change through our class based climate change workshops at all levels of English and volunteering opportunities.
Previous 'Welcoming a Greener Future' projects in 2015/16 and 2016/17 helped to achieve significant carbon savings by migrant and refugee communities in Edinburgh through our lively programme of home energy visits and surgeries, climate challenge classroom sessions, recycling and upcycling workshops and fairs, free shop, waste education visits, focus groups, volunteering opportunities and community events.
Our 'Learn to Sew' textile project from 2016/17 is now developing into an exciting social enterprise who will be working together to create beautiful and original upcycled clothes and accessories. Watch this space for further details!