Donate to The Welcoming today to support New Scots (asylum seekers, refugees, and migrant workers) in Edinburgh through the challenges of building lives in a new country.
You can donate online through LocalGiving, post a cheque, donate through online banking, request an invoice or fundraise for us.
Our mission
The Welcoming Association is an Edinburgh-based charity dedicated to supporting New Scots (asylum seekers, refugees and migrant workers) to feel at home in their new communities.
We welcome New Scots to Edinburgh, build community and learn together by:
supporting newcomers to learn English, find jobs and access local services
offering opportunities for friendship, sustainable living, creativity, health and well-being
connecting locals and newcomers through social and cultural exchange
collaborating with others to share knowledge and influence positive change
The challenges
The Cost of Living Crisis has placed an unprecedented challenge on our work. As an organisation working with New Scots who live in areas of multiple deprivation in Edinburgh, we are still facing pressures on all fronts.
No area of life for New Scots has been left unaffected by price hikes – from rising rents to the cost of food. They face many barriers in accessing mainstream support services. We are asking for your donation so that we can continue providing our support to New Scots in Edinburgh during the current crisis and beyond.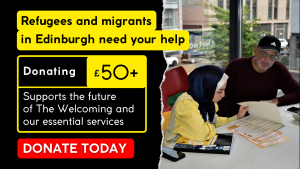 Your support
Any donation you can give, no matter how small, will be greatly appreciated. We particularly appreciate regular donations as they help us to plan ahead.
Please pass our appeal on to your family, friends and co-workers, and get in touch if you need more information.
---
---
Ways to Give
Donate monthly
Donate monthly via LocalGiving.
Give a one-off donation
Give a one-off donation via LocalGiving.
Fundraise
Fundraise to support refugees, asylums seekers and migrant workers in Edinburgh through LocalGiving.
Send a cheque
Post a cheque made payable to The Welcoming Association to: The Welcoming Association (Donation), Unit 1, 20 Westfield Avenue, Edinburgh EH11 2TT.
Donate through internet banking
Please email us at [email protected] to ask for our bank account number and sort code for your donation.
Request an invoice
Organisations, companies and small businesses can email us to request an invoice.