We have the pleasure to announce that the Lyceum Theatre and The Welcoming have teamed up to deliver a series of acting classes for non-English speakers.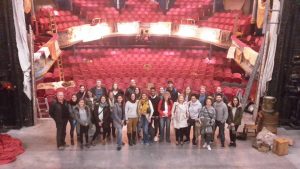 Welcoming participants have been invited to attend 4 free acting classes Thursdays from 2-4pm, running from 9 – 30 November. The sessions will take place at the Lyceum theatre and participants are also invited to see the Christmas show Arabian Nights.
On Tuesday 24 October we had a wonderful backstage tour of the theatre and had a chance to meet the acting coach we'll be working with. Like she said, the acting classes will be great opportunities for us to learn how to communicate beyond words, have fun and gain confidence -we can't wait!
If you are interested in taking part in the four acting workshops, you need to book your place by writing an email with your name and membership number to [email protected]
Acting classes with the Lyceum Theatre