This month celebrates Black History Month across the UK which includes a programme of educational events and exhibitions in Edinburgh. We have put together our top picks of events in Edinburgh that encourages conversation and helps us understand the impact of black heritage and culture in Scotland.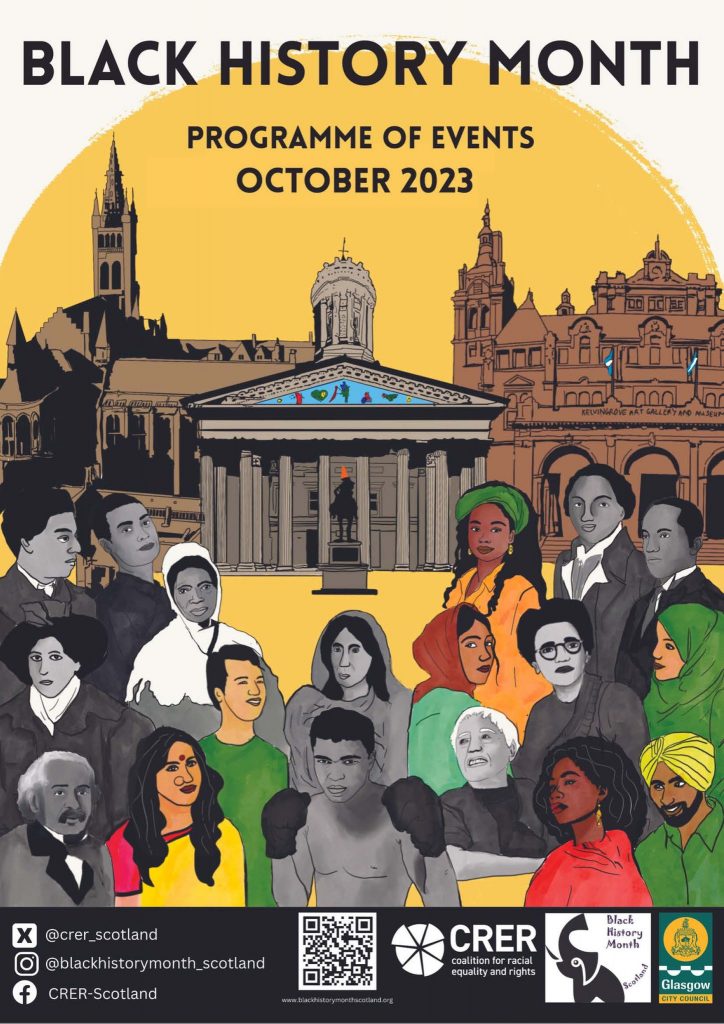 ---
Black History Walking Tour of Edinburgh
People from African, African American and Caribbean backgrounds are a part of the fabric of Edinburgh, whether as visitors or residents. This fundamental part of our city's history is rarely explored, but the Black History Walking Tour is an opportunity to have an open discussion about Edinburgh's past. The tour is led by Lisa Williams, who will share little-known stories from the 16th century to the present which promises to make you see Edinburgh's statues and buildings in a new light.
For the wee ones, check out the family friendly version of the tour with music, costumes and fun interaction also led by Lisa Williams.
Various dates in October
2:00 PM  4:00 PM
Meeting point: Melville Monument (map)
Lecture in the History of Slavery
The history of slavery and the passage to freedom is sometimes not so apparent from the history books. Rather, there were informal processes that are less visible or not recorded, but are just as important to know about. The Lecture in the History of Slavery will be delivered by Harvard University's Daniel Lord Smail. He is a Professor of History who works on deep human history and the history and anthropology of Mediterranean societies between 1100 and 1600. Find out how enslaved people used various processes to enable them a passage from slavery to freedom.
Wednesday, October 11, 2023
Appleton Tower, University of Edinburgh, Lecture Theatre 1
5:00 PM  7:00 PM
Nzira Yeparuware
Visitors to Edinburgh Castle are being invited to discover a soundscape of recordings taken at a selection of Scottish-named sites in Harare, Zimbabwe. The aim is to highlight Scotland's part in creating Zimbabwe's physical environment addressing the injustices experienced by indigenous people on colonised sites.
NB: Please bring headphones to this event.
Fri, Sep 1, 2023 to  Fri, Dec 1, 2023
9:30am to 5:00 PM
Edinburgh Castle (map)
Our Stories Told by Us: Celebrating the African Contribution to the UK HIV response
Part of the 'Our Stories Told By Us: Celebrating the African Contribution to the UK HIV Response' book tour. This talk examines the contributions of people from African communities who live with HIV and the fight against it. This event is part of the events programme for the Library's Collection in Focus exhibition Blood Sweat and Tears curated in partnership with Waverley Care.
Wednesday, October 11, 2023
5:30 PM to  6:30 PM
National Library of Scotland, George IV Bridge (map)
Staging Caribbean History and the History of Slavery
Historian Diana Paton (University of Edinburgh) and playwright and actor Catherine Bisset discuss what is at stake when the subject matter is the lives and struggles of enslaved people. The pair have recently collaborated on a new play, Apprentice, which focuses on the final years of slavery in Jamaica. They will also reflect on Diana's work with a Jamaican American performance artist, Jodie Lynn-Key-Chow on her piece 'Living Her-stories of Sugar', and Catherine's play Placeholder, about theatre in colonial Saint Domingue. More details here.
Thursday, October 19, 2023
2:00 PM  to 3:00 PM
City Arts Centre, 2 Market St (map)
---
Events are organised by the Coalition for racial equality and rights (CRER).
For more information on events in Edinburgh for Black History Month, visit the Black History Month website here.
Celebrate Black History Month in Edinburgh – Events and Exhibitions