Volunteers are at the heart of The Welcoming and we are privileged to have an amazing community of skilled and enthusiastic volunteers who help us to run our activities and welcome newcomers to Edinburgh. We are always delighted to hear from people who are interested in joining as a volunteer. Details of current opportunities are provided below. To apply, please complete the relevant application form.
If you have any questions or suggestions about volunteering, please contact us. See the Volunteer section of our Annual Review 16/17 for a further insight into the role.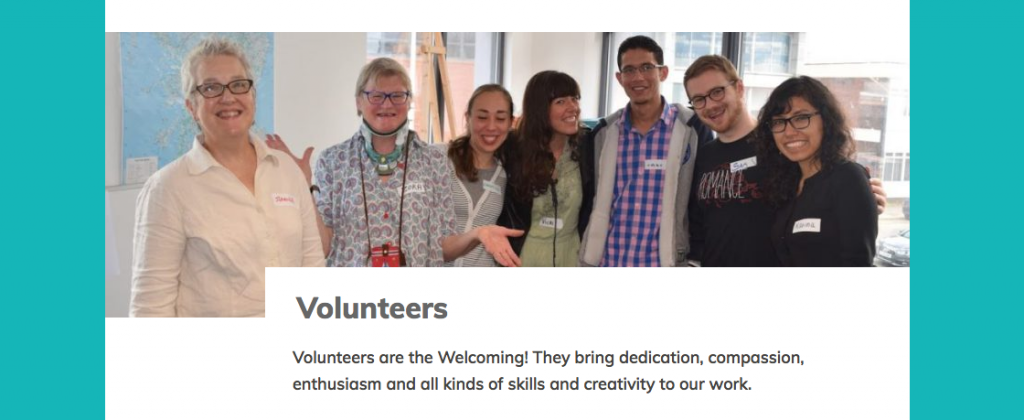 Befriending Volunteers

Role Purpose: To share social and cultural activities with newcomers to Scotland and offer informal support with English language learning, on a 1-1 and/or group basis, as part of our Welcoming Friendship programme. Meetings often take place in newcomers' family homes.
Skills and Qualities Needed: Interest in supporting others, good listening and interpersonal skills, patience, reliability and flexibility, respect for other cultures, social and cultural interests that you can share with others, interest in developing your skills and reflecting on experiences.
Commitment: Befriending pairs usually meet up weekly or fortnightly for a few hours. We ask befriending volunteers to commit to meeting up over a 9 month period.
Support and Training: Induction given and ongoing support and supervision offered If you are interested in in this role please complete this Befriending Volunteer Application Form
ESOL Tutors
Role Purpose: Provide ESOL support in order to improve practical English language skills of migrants and newcomers to Edinburgh. Plan and teach a class for a maximum of 30 people (beginner, elementary or intermediate), either on your own or as part of a team.
Skills and Qualities Needed:
Very strong English language skills, Teaching UK recognised qualification (e.g. CELTA, TESOL etc.). Experience in ELT and/or adult learning. Ability to plan lessons and work as part of team.
Good interpersonal and communication skills. Patient, understanding with a good sense of humour.
Commitment: The post would probably average out at 2 – 4 hours per week, but it depends on preparation time and and can be negotiated.
Support and Training: Induction given and ongoing training offered. If you are interested, please follow this link, ESOL Tutors Volunteer Application Form, which will take you to a form to complete and express your interest.
Fitness Volunteers
Do you love keeping fit?  Would you like to support, motivate and encourage others? We are looking for two friendly volunteers to support a weekly trip to the gym/swimming pool/fitness class (you don't need to lead any fitness activities but to meet, motivate and encourage the group!
The session will likely run from 3pm – 5pm every Thursday, starting Thursday 11th January 2018 (times and dates can be discussed). The group will meet at the  Welcoming and walk together to Dalry Swim Centre.  If you are interested in volunteering please contact caitlin@thewelcoming.org
'One day a year' volunteering
Does your employer allow you to take one day a year (or more) to volunteer for a charity? Why not consider donating your day to The Welcoming! We would be pleased to explore how you might be able to contribute to our work according to your particular skills and interests. Please contact us to discuss.
Other volunteering opportunities
If you have a particular suggestion regarding volunteering that is not listed here, please complete our general Volunteer Application form and let us know about how you would like to contribute. We do not always have capacity to take up suggestions, but we will certainly consider your proposal with interest and let you know.