Volunteers are at the heart of The Welcoming and we are privileged to have an amazing community of skilled and enthusiastic volunteers who help us to run our activities and welcome newcomers to Edinburgh. We are always delighted to hear from people who are interested in joining as a volunteer. Details of current opportunities are provided below. To apply, please complete the relevant application form.
Please see our Volunteer Policy and our Volunteer Rights and Responsibilities.
If you have any questions or suggestions about volunteering, please contact us.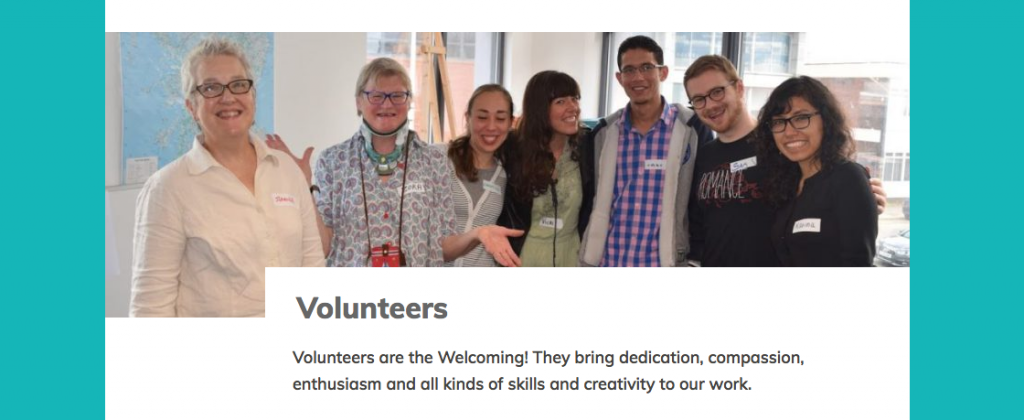 ---
---
Befriending Volunteers

Role Purpose: To share social and cultural activities with newcomers to Scotland and offer informal support with English language learning, on a 1-1 and/or group basis, as part of our Welcoming Friendship programme. Meetings often take place in newcomers' family homes.
Skills and Qualities Needed: Interest in supporting others, good listening and interpersonal skills, patience, reliability and flexibility, respect for other cultures, social and cultural interests that you can share with others, interest in developing your skills and reflecting on experiences.
Commitment: Befriending pairs usually meet up on a weekly basis for a few hours. We ask befriending volunteers to commit to meeting up over a 9 month period though we hope that friendships will continue beyond this. We are particularly interested in hearing from people who are settled in Edinburgh and plan to be here long term.
Support and Training: Induction given and ongoing support and supervision offered.
Update: 22/01/2019. We are currently running at capacity with Befriending Volunteers, and have a waiting list in place. You are welcome to complete our short form  and we will keep your details on record : Befriending Volunteer Application Form 
---
ESOL Tutors
Role Purpose: Provide ESOL support in order to improve practical English language skills of migrants and newcomers to Edinburgh. Plan and teach a class for a maximum of 30 people (beginner, elementary or intermediate), either on your own or as part of a team.
Skills and Qualities Needed:
Very strong English language skills, Teaching UK recognised qualification (e.g. CELTA, TESOL etc.). Experience in ELT and/or adult learning. Ability to plan lessons and work as part of team.
Good interpersonal and communication skills. Patient, understanding with a good sense of humour.
Commitment: The post would probably average out at 2 – 4 hours per week, but it depends on preparation time and and can be negotiated.
Support and Training: Induction given and ongoing training offered.
Update: 14 September 2018. We are currently running at capacity with ESOL volunteer tutors, and have a waiting list in place. For this reason, we are not inviting applications at present – please watch this space however as the list will open again in the near future.
---
Knitting Club Volunteers
---
Fundraising Event volunteer
Do you love planning and delivering events?
Do you have great fundraising ideas?
Then this role could be for you! We are looking for  volunteers to work with us to generate ideas for community events that will bring people together, celebrate diversity, and raise funds for the Welcoming. Fundraising event volunteers will also assist with planning, promoting, running and evaluating the events.
Skills and experience required include:
Excellent communication and organisational skills
Experience of event organising or fundraising
Creative thinking
Enjoyment of team working
Ability to motivate and coordinate others
Reliability and flexibility
Commitment to the values and the vision of the Welcoming.
If you are interested in finding out more about this role, or if you would like to apply, please email [email protected]
---
Sustainable Garden volunteers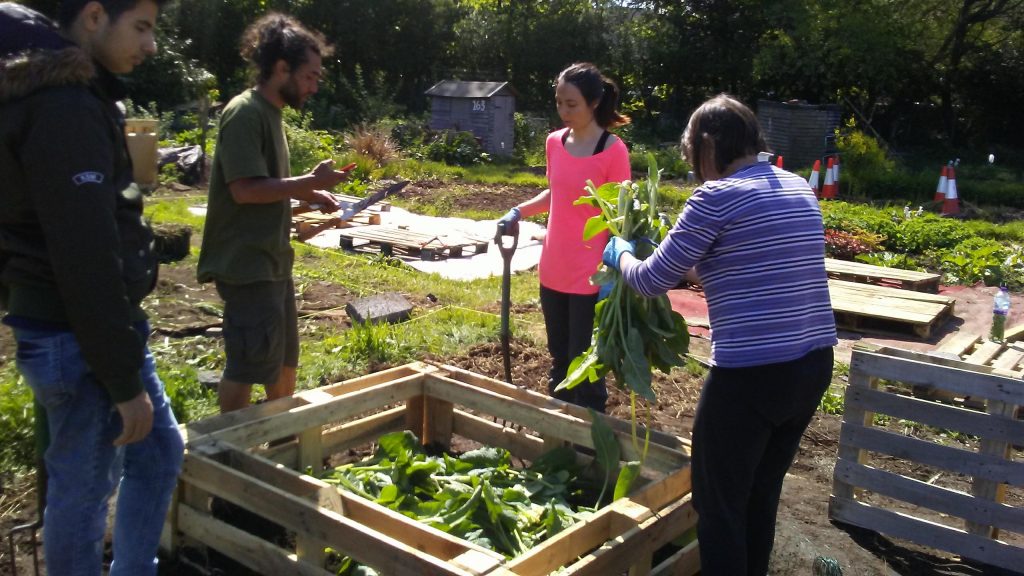 Volunteering opportunities are becoming available on our exciting new Sustainable Garden project. Please see the Sustainable Garden page for more information and contact [email protected] to express your interest in getting involved.
---
Welcoming Lunch volunteers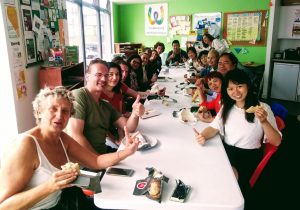 We have two roles available to help support our weekly Welcoming Lunch on Fridays.
Lunch Collection/Pick Up
This role involves collecting the food from Pret-a-Manger on Lothian Road at 4.55pm sharp, then bringing it back to the Welcoming to store in our fridge. This all takes no more than 1 hour / 1 hour 15 minutes. It is a very straightforward and practical role that makes a big difference for us.
Time commitment: Thursdays, ready for pick up at Lothian Road by 4.55pm sharp, finishing at the Welcoming around 6pm
Lunch Host
This role involves setting up the lunch at the Welcoming and clearing the space once lunch is finished. Key tasks include
* creating a relaxed, informal atmosphere that help participants feel welcomed and enjoy the gathering
* engaging with participants who seem lonely or isolated
* helping to monitor attendance and evaluation of the Welcoming Lunch
Time commitment: Fridays, 12pm – 1.30pm
If you are interested in either, or both, of these roles, please contact [email protected]
منظم المساحة الإبداعية – ناطق باللغة العربية (تطوعي)             
تُقام المساحة الإبداعية (كرياتف سبايس) كل يوم السبت في مؤسسة "ذي ولكومنغ" بين الساعة 12 ظهراً والساعة 4 مساءً. إنها فرصة للمشاركين في "ذي ولكومنغ" للتمتع بقضاء الوقت معاً والمشاركة في الأنشطة الإبداعية، مثل الرسم والخياطة والحياكة والموسيقى وألعاب الطاولة الخ. إنه جو مريح للغاية ونرحب بجميع الناس! نحن حريصون على تشجيع المزيد من الناس على الانضمام إلى المساحة الإبداعية. تم تصميم هذا الدور التطوعي الجديد لمساعدتنا على التواصل مع الأشخاص في المجتمعات الناطقة بالعربية في إدنبره.
الدفع: دور غير مدفوع الأجر. سيتم تغطية جميع نفقات السفر والاعالة.
التواريخ والأوقات: السبت، 12 ظهرًا – 4 مساءً
تقديم التقارير إلى: المدير المشارك لمؤسسة "ذي ولكومنغ"
الغرض من هذا الدور: تنظيم وادارة المساحة الإبداعية بشكل عام وتيسير مشاركة المشاركين الناطقين بالعربية.
المهام والمسؤوليات الأساسية:
تشجيع المشاركين الناطقين باللغة العربية للمشاركة في المساحة الإبداعية  من خلال التواصل مع الناس واستخدام واتساب وغيرها
خلق جو ترحيبي ومشجع لمشتركي المساحة الإبداعية
تطوير أفكار لأنشطة المساحة الإبداعية بالتنسيق مع مدير المساحة الإبداعية
المساعدة في تسهيل أنشطة المساحة الإبداعية (وقيادة بعض الأنشطة إذا رغبت في ذلك)
المساعدة في تقييم المساحة الإبداعية من خلال تشجيع المشاركين للاشتراك في أنشطة التقييم.
مواصفات الشخص
أن يمتلك الشخص مهارات تواصل ممتازة
أن يمتلك الشخص حماسة للفنون الإبداعية
أن يتحدث الشخص اللغة العربية بطلاقة
أن يمتلك الشخص مستوى متوسط أو أعلى في اللغة الإنجليزية
الالتزام برؤيا وقيم "ذي ولكومنغ"