Freelance Project Coordinator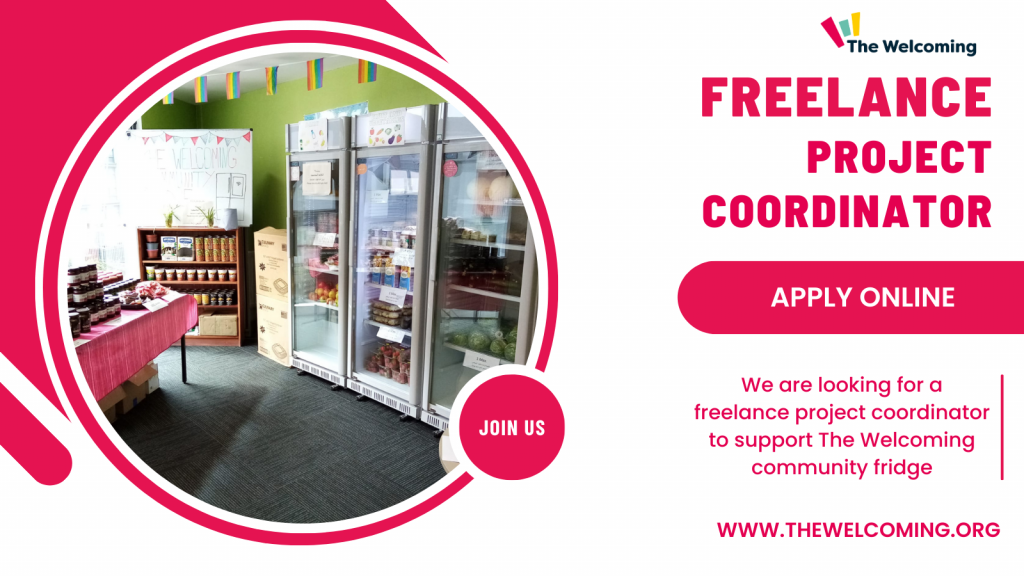 We are looking for a freelance project coordinator to support The Welcoming community fridge.
The main focus of this role will be to coordinate the planning, delivery and evaluation of the community fridge.
Please read the role description for more information, and if interested fill in the application form.
The deadline to apply for this freelance role is Thursday 21st September at 5pm. Please note that unfortunately, The Welcoming is unable to respond to each individual note of interest. If you have not heard from us within two weeks, please assume that you have not been successful on this occasion.
---
Commitment to Fair Work First
The Welcoming is run by a small and dedicated staff team. The passion, experience and skills of our staff ensure that The Welcoming can effectively support New Scots in Edinburgh.
We are committed to providing the best possible workplace for our staff by implementing the Scottish Government's Fair Work First Strategy.
Generous Leave
We offer our staff 35 days of annual leave per year, pro rata.
Real Living Wage
We pay the Real Living Wage, or above, to all staff. We never use zero-hour contracts.
Flexible Working
We recognise the importance of a healthy work-life balance by offering family-friendly leave and a range of flexible working options.
Employee Assistance Programme
We offer a free and confidential Employee Assistance Programme to support the physical and mental wellbeing of staff.
Inclusive Workplace
We strive to build a more inclusive workplace, through positive action in recruitment, training in EDI (Equality, Diversity and Inclusion) and a proactive EDI working group.
Empowering staff
We encourage staff to make their views heard through consultation, regular meetings and working groups. Staff are also encouraged to join a trade union if they wish to.
The development of our team is important to us, and we regularly offer opportunities for staff to learn and develop throughout the year.
As an aspiring organisation, we update our policies regularly. Hence, we will update our Fair Work Frist policy when we add relevant strategies and guidelines.