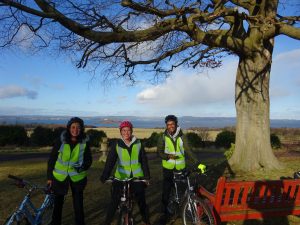 Cycling for Newcomers helps Welcoming participants explore Edinburgh with bikes. We run an afternoon ride once a month, led by two volunteers, Graham Russell and Jenny Tizard, who are regular cyclists with Edinburgh cycle groups. Jenny says 'I know that cycling has made me a more confident, healthy person and I wanted to share that. Using cycle paths to discover more about the city, new places and new connections. And learning to cycle safely and confidently on the roads.'
Estrella, from Mexico, has spent a year in Edinburgh with her family and is now preparing to return home. 'What's been the best thing for you about coming out with Cycling for Newcomers?' we asked her. 'Everything' she said. 'Making friends, getting to know Edinburgh, beautiful parks, but also just cycling on the streets and looking at the different houses. Seeing how people live.'
Graham, volunteer cycle co-leader says "I have been volunteering with Cycling for Newcomers for approximately one year. I enjoy the exercise, being outdoors and meeting people from all different parts of the world and chatting to them whilst cycling, learning about their lives in the countries they have come from and the reasons they have come to Edinburgh. Doing the volunteering has made me more confident in talking to people and also through The Welcoming I have been given the opportunity to do some formal Cycle Leading training. I also like that I have been able to pass on my local knowledge of Edinburgh cycle paths etc."
Lucy Theaker, Business & Communications Coordinator at The Welcoming, lets everyone know what's happening using WhatsApp and Facebook. Lucy says "Cycling for Newcomers is one of my favourite activities at The Welcoming. Edinburgh is full of beautiful cycle paths which are often hidden away, and it's great to help newcomers discover all these new routes, and help them gain confidence cycling in the city."
We have had people from Syria, Italy, Mexico, Spain, Vietnam join our rides. We never quite know who will turn up for the monthly ride, how much English they'll speak and what state their bicycle might be in. But Cycling for Newcomer participants have always been enthusiastic and determined.
A big challenge in setting the group up has been that newcomers to the city don't usually own bicycles. Bikes for Refugees donated 2 bikes that we use every month. And we take people to second hand bike shops and the Bike Station to show them where reliable second-hand bikes can be bought. Last year The Big Bike Revival provided bikes for 12 people on two rides that they helped us to organise. Cycling Scotland provided cycle leadership training.
We asked the Syrian Women's Group if they would be interested in a women-only Introduction to Cycling session at their weekly class. They were, and we have spent two Wednesday mornings this year cycling up and down a yard, with more adventurous people cycling down the road and round the block. Saher said "I like cycling, it makes me feel strong".
In the Spotlight – Cycling for Newcomers