Welcoming Friendship connects people who are new to Edinburgh with friendly local volunteers.
We understand that when you are in a new place, settling into a new life, it's not always easy to get out there and meet new people. Things we take for granted can be a challenge, from getting on buses (they don't give change!) to finding the best places to buy affordable food and exploring ways to get fit and stay healthy. It can be hard to meet people and make friends when you don't share the same language.
We agree wholeheartedly with a participant's belief that "friends make you feel at home".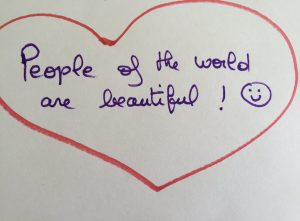 We understand that friendship comes in many shapes and sizes. Welcoming Friendship offers newcomers the opportunity to get involved in a range of activities which we hope will lead to new friendships.
We offer:
Family to family befriending
Friendship group (a cosy and intimate weekly get together)
Conversation cafe (an opportunity to meet other newcomers as well as local volunteers
If you are new to Edinburgh (it doesn't matter how new) or know someone who would benefit from this programme contact Caitlin for more information.
If you're a friendly local with some free time each week , we love to hear from you. You can read more about the role and submit a short application form via our volunteer page.
Welcoming Friendship is Funded by Big Lottery Fund