Volunteers are vital to our work, helping us to welcome our service users in all kinds of ways, and across our key projects. Every aspect of what we do at The Welcoming is supported by volunteers, or led by them.
We would like to take the opportunity of Volunteers' Week 2021 to say we cannot thank our volunteers enough and we hugely appreciate you!
Volunteering throughout the pandemic
Throughout the Covid crisis, committed volunteers have taught English classes at various levels to our New Scots participants across the week, have met their New Scots families online for chat and to form friendships, have joined in and helped facilitate with conversations at our online friendship groups and lunch clubs, translated to or from Arabic to support New Scots families, helped to set up a new database for the organisation, and helped facilitate and plan for our sustainable cooking club.
We would also like to thank our wonderful Board of Directors, all volunteers too, who have guided us through a most unusual year with their skills and knowledge, all in their own time.
Some of our volunteers joined us years ago and have stayed with us through the year 2020-21, while others started with us during the period where we have been away from the office, helping build a community online as we all stayed safe in our homes.
Supporting New Scots
The Welcoming is lucky and proud to have so many volunteers. Thank you, for the 2000+ hours you offered in 2020-21. Thank you to the 58 of you who are with us now, supporting our staff and our services but above all, supporting the New Scots who are now settled here and call Edinburgh home.
You are helping make Edinburgh a more welcoming place. We so look forward to seeing you all in-person when it is safe and possible to do so.
---
Reflections from our volunteers
Three of our volunteers kindly shared their stories with us about their experiences of volunteering with The Welcoming.
Living Well Lunch Club volunteer – Annette
I began volunteering with The Welcoming in August 2020 and was immediately attracted to join the Living Well Lunch Club on a Monday due to my passion and professional interest in health and wellbeing.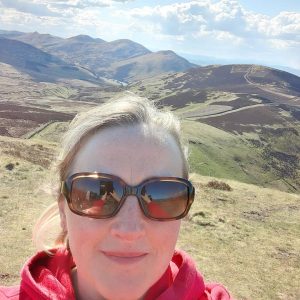 Sessions have all been on Zoom and I have really enjoyed meeting and sharing stories and activities with such a wide range of people from all over the world. I've been really pleasantly surprised by just how welcoming and inclusive these online sessions are, and as a volunteer I feel warmly included and valued in the group.
I've learned things that are new to me as well – creative ways to mend my clothes for example with Remode Collective – and I particularly enjoyed the group working together to write and illustrate our own children's story. Earlier this year I was really fortunate, as part of my studies, to shadow Mindfulness Association teacher, Kristine Mackenzie-Janson, and I supported a 10-week evening mindfulness class.
Overall, my experience of volunteering with The Welcoming has been really positive. I feel as though I've made new friends, learned new skills, and I've felt valued and able to contribute from my own skills and passions. It's great to be part of such a warm, friendly and motivated organisation.
---
We Blether volunteer – Peter
Community provides the framework through which we live, move, relate and express ourselves. The Welcoming is so important because it provides a space in which people can be themselves.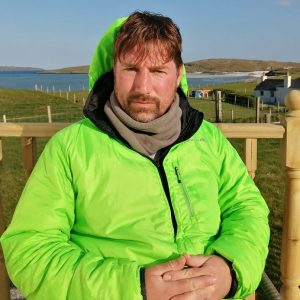 Seeing Scots New and Old express themselves at the We Blether is an absolute privilege and something that feels special to have been a part of thus far. Topics of discussion in the We Blether are very diverse and always well facilitated by staff. As the world gets smaller it is fascinating to experience New Scots expressing themselves on topics as diverse as global climate change and, more locally, "places we like to walk!"
We have excellent topical guests too. I've lived in Scotland most of my life and it gives me a warm glow to share the knowledge that I have accumulated over the years in order for people to feel more and more welcome here in Scotland, feeling more and more like this is their country, full of things they own from Edinburgh's National Portrait Gallery to the Shetland Isles.
I feel that volunteers, staff and New Scots have one thing in common – we all feel Included in the creative and inclusive space that The Welcoming provides.
---
Volunteer English class teacher – Mark
As a volunteer English teacher at The Welcoming for some time now, I have noticed, along with everyone else, the huge changes in how things are done since the Covid-19 pandemic began in 2019. Before lockdown, drop-in classes were open to all, attendance was high, the atmosphere was always upbeat and everyone enjoyed themselves. It wasn't just an English class, it was a place to meet people, make new friends, socialise, and hopefully learn and improve English language skills.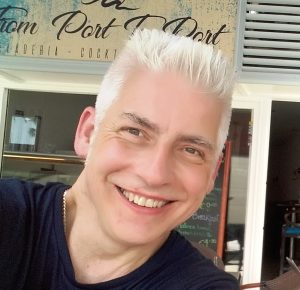 When it became clear, for health reasons, that classroom teaching was no longer viable, English teaching moved to an online basis. Video conferencing suddenly became all the rage. It was a bumpy start, as all things are when they first get going, and online teaching definitely isn't the same as classroom teaching. However, as always, we rose to the challenge. Lesson plans were adjusted for laptop screens, we all learned the intricacies of Zoom, and we even got to know each other better as people made a real effort to keep things going.
I think moving the classes online was incredibly important. Not only does it continue to provide people with ways to improve their English language skills, it provides a forum for everyone attending to see each other and keep in touch, albeit through a screen. I have no doubt this provided an invaluable lifeline during the long months when we were told to stay at home. Having no real social interaction is not easy, and especially difficult if you are away from friends and family and in another country.
I definitely miss the actual classroom teaching. I think everyone does, and not everyone has access to the online classes. But lockdown continues to ease, the vaccination programme continues to be rolled out, and hopefully we will be in a position to open the classrooms again in the not-too-distant future. See you there.
Thank you to our wonderful volunteers: Celebrating Volunteers' Week 2021!