This Your Edinburgh piece has been written by volunteer & member of The Welcoming, Noelia. She has been running our Gym & Swim group for several months and is keen for more people to get involved!
I didn't discover The Welcoming until my third month in Edinburgh. Nowadays The Welcoming is my second home. I am the volunteer leader of the Gym and Swim sessions and this has changed my view of Edinburgh. I became a part of a group. Everybody is welcome to join us in these amazing Sessions. What are these sessions? The Welcoming got a wonderful deal for us, we have a discounted rate to join the gym, casual swimming session and the sauna and the discounted rate is £1.00 each activity and you could join as much as you would like.
But for me, this Sessions are something more, we are a small community of friends doing exercise together, always a good conversation is welcome, laughs are the essential part. The opportunity to meet people in other context is more relaxed. Sometimes wehave a drink after the sessions, we met in other context. Also it has some cons, the gym and swim sessions are addictive and you could improve your health and you won't know until the penny will drop.
The volunteers are also welcome and the roll can help to improve your confident!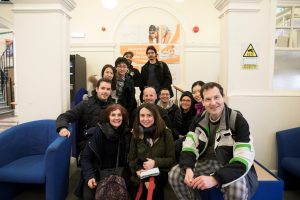 Your Edinburgh – Gym & Swim Group