Welcome to In the Spotlight – our monthly look at what some of our lovely volunteers do here and how they feel about it!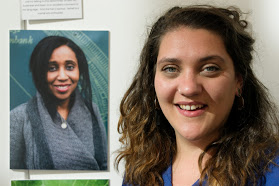 'New Scots' is a photography project looking at the identity of newcomers to Scotland, a collaboration between photographers Ciara Menzies, Simon Hossack and The Welcoming. We are pleased to introduce Ciara 'in the spotlight' this month. 
From a young age, I have always been fascinated with people, especially those from backgrounds, countries, cultures different to mine. I grew up in a family where we had people from all around the world staying with us, this opened me up to the richness of different cultures, exposing me to things that can be done in ways which are different to my norm. This fascination with people has never left me and I'm not sure it ever will.
Often I've thought about what identify looks like, this is a question that can be looked at from so many angles but the one of cultural identity has always captured my intention. Underpinning the project 'New Scots' has been seeking to find others people's thoughts on this. Having lived abroad myself, I pondered these questions of cultural identity for myself. Maybe it's just me, but when I moved away from Scotland I developed a deeper sense of pride of the culture and country I came from, yet also feel like the new country/home where I moved too infused things in me too. So for me, I became this amalgamation of all things Scottish with a good sprinkling of all things Dutch.
It's funny how living somewhere different to where you come from can give you different perspectives and alternative ways of doing and seeing things. I found that some of the mundane everyday things like how to make the 'right' cup of tea or the etiquette of getting on the bus can be very different. From speaking to those who are part of the New Scots photo series they have also found this about us here in Scotland.
Living face to face in a different country and culture also makes you see and understand things differently to the locals. This was one of the main topics we explored with newcomers featured in the  New Scots photo series; what they observed and noticed (the good and the bad) about Scotland, that we (that I) as an 'old' Scot couldn't see. It has been a pleasure to get an insight into Scotland from others, some who have been here for months and others year. So thank you to all of you who let me quiz you and sat abidingly as I took your portrait.
www.ciaramenzies.com