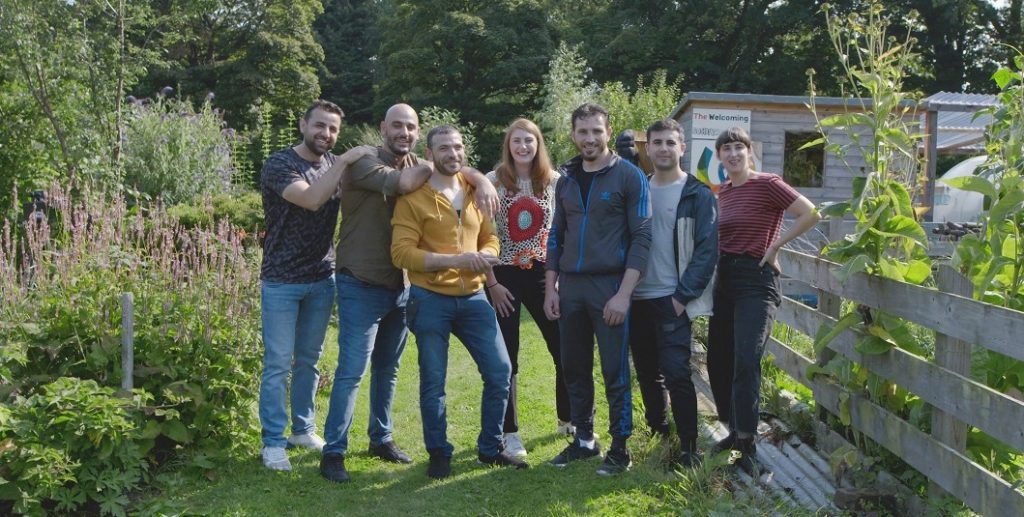 After an incredible seven years, our Welcoming a Greener Future project will be coming to a close on March 31 2022.
The project has been funded by the Scottish Government Climate Challenge Fund since it began in 2015. Now, we are putting our climate activities on hold while we secure future funding to continue our climate work.
Welcoming a Greener Future started with the aim to enable New Scots (asylum seekers, refugees and migrants) to engage in positive climate action, and help Scotland reduce carbon emissions.
Our areas of work included:
Climate literacy
Home energy savings
Waste reduction and upcycling
Food growing and food sustainability
The project also offered a volunteering programme for both locals and New Scots, with the aim to build climate resilience within the community.
To date, the project has worked with over 100 volunteers, with an average of 200 hours of volunteering per year.
Activities update
Living Well Lunch Club
Living Well Lunch Club had its last session on 14 March.
The Welcoming offers other conversation groups through our Befriending programme such as the Women's Conversation Space (Tuesdays, 1-2pm) and the Big Ideas Friendship Group (Thursdays, 6-7pm). For more information contact [email protected].
Home Energy Efficiency
Home Energy Efficiency visits and recycling advice are currently suspended.
We would recommend contacting Home Energy Scotland on 0808 808 2282 for any home energy advice and support. Translation is available from Home Energy Scotland.
Home food growing support
Home food growing support is currently suspended.
If you wish to grow your own food we recommend you join your local community garden. Have a look at Edinburgh Council's food growing map.
Sustainable cooking
Our Befriending programme will continue to offer ad-hoc cooking sessions, contact [email protected] for more information.
The Welcoming Community Garden
The Community Garden will continue to be maintained by a sessional worker from The Welcoming. All harvest will be donated to the Community Fridge.
Syrian Forum
The last Syrian Forum hosted by Welcoming a Greener Future was on 10 March.
The Syrian Forum will continue to be hosted quarterly at The Welcoming. Contact [email protected] for more information.
Swap Shop events
We will continue to promote Swap Shop events organised by other local organisations. We recommend following Granton Goes Greener and ELREC on social media for updates.
Community Fridge
The Community Fridge opening hours will be reduced, with the last weekly session on Thursday 31 March.
Going forward the Community Fridge will be open the last Thursday of every month, 10am-12pm, starting from Thursday 28th April. Contact [email protected] for more information.
Update: Welcoming a Greener Future project