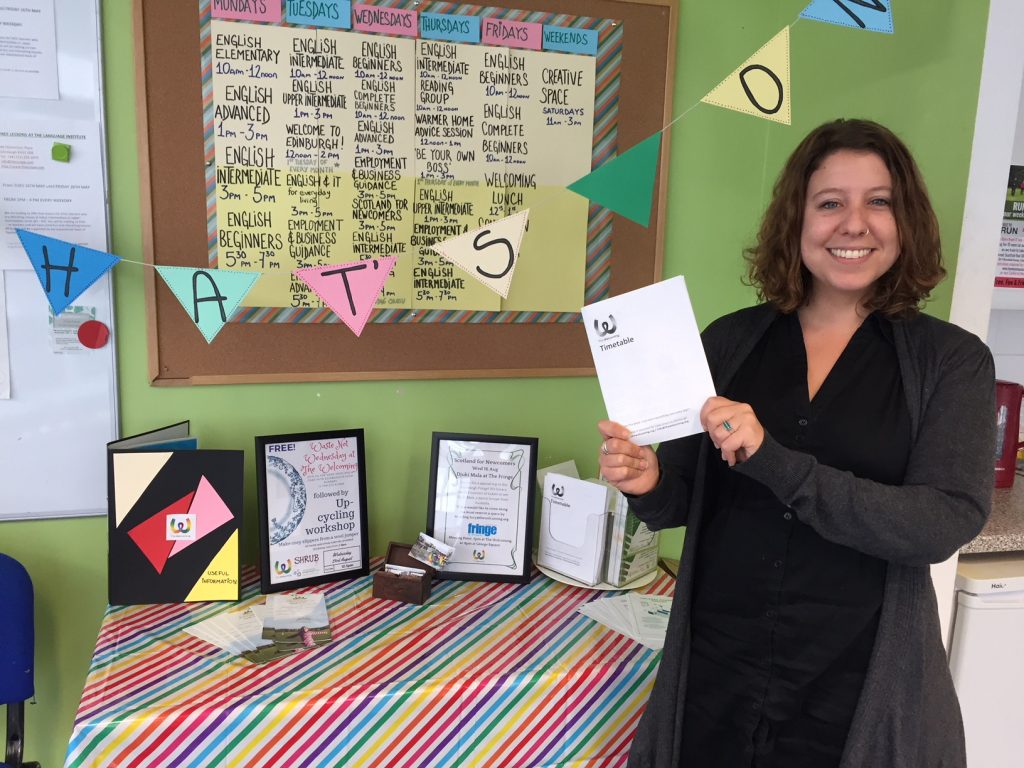 Our timetable below has details of all our classes and activities for newcomers to Edinburgh. Everything is free of charge and drop in. This means that there is no need to book in advance – just come along and join in! 🙂
Please note that whilst we try and keep to our main timetable, there may be some alterations each week. In case of any last minute changes, cancellations or updates please check the following link Weekly Time Table Updates.
PLEASE NOTE ; Wednesday 20th March. English for Beginners. 5th Floor. 10am – 12pm. The class is cancelled this week.  We apologise for the inconvenience, but it will be back on the following week!
We are open for 50 weeks of the year, closing only for public holidays at Christmas, New Year and Easter.
Please visit our Register page for more information on how to get started.
| Day | Time | Activity | Description |
| --- | --- | --- | --- |
Monday
10.00am – 12.00pm
English Elementary
For those with a basic understanding of English (A2)
10.00am – 12.00pm
Open Book Reading Group
Shared reading group to enjoy fiction and poetry together. For those with a very good understanding of English, looking for further improvement (C1)
1.00pm – 3.00pm
English Advanced
For those with a very good understanding of English, looking for further improvement (C1)
1.00pm-3.00pm
Cycling for Newcomers *last Monday of every month*
Join our monthly led bike rides.
3.00pm – 5.00pm
Employment & Business Guidance
Open workshop for help with CVs, job applications & career advice
3.15pm – 5.15pm
English Intermediate
For those with a reasonable understanding of English (B1)
5.30pm -7.30pm
English Beginners
For those with little understanding of English (A1)
Tuesday
10.00am – 12.00pm
English Intermediate
For those with a reasonable understanding of English (B1)

3.00pm – 5.00pm

*Last Tuesday of the month*

Home Energy Advice Drop-In 
A chance to get advice on your home energy bills & recycling 
1.00pm – 3.00pm
English Upper-Intermediate
For those with a good working understanding of English (B2-C1)
3.00pm – 5.00pm
Gym & Swim Session
Keep active with our gym & swim group!
5.00pm – 7.00pm
Table Tennis Tuesday
Starting again on 26th June
5.30pm – 7.30pm
English Advanced
For those with a very good understanding of English, looking for further improvement (C1)
Wednesday
10.00am – 12.00pm
English Beginners (1st floor) and at the same time a Complete Beginners class (5th floor)
For those with little understanding of English (A1) For those with no understanding of English
12.00pm – 2.00pm
Welcome to Edinburgh! *1st Wednesday of every month*
Introduction to the city for new arrivals.
1.00pm – 3.00pm
English Advanced
For those with a very good understanding of English, looking for further improvement (C1)
3.00pm – 5.00pm
Scotland for Newcomers
Get to know Scotland with a different outing or activity every week
5.30pm – 7.30pm
English Intermediate
For those with a reasonable understanding of English (B1)
7.30pm-9.00pm
Singing Group
Come and sing with us! *At St Martin of Tours Episcopal Church, 232 Dalry Road*
Thursday
10.00am – 12.00pm
English Intermediate
For those with a reasonable understanding of English (B1)
1.00pm – 3.00pm
English Upper-Intermediate
For those with a good working understanding of English (B2-C1)
3:30pm-5.00pm
The Wee Blether
A small conversation group for those looking to share English conversation in a cosy environment.
5.30pm – 7.30pm
English Intermediate
For those with a reasonable understanding of English (B1)
Friday
10:00am – 12:00pm
English Beginners (1st floor) and at the same time a Complete Beginners (5th floor)
For those with little understanding of English (A1) For those with no understanding of English
12.15pm – 1.15pm
Welcoming lunch
We invite you to join us for a shared lunch!
1.30pm – 3.30pm
English Conversation Café
Have fun and improve your English through conversation with other learners and local volunteers
2.00pm – 4.00pm
Employment & Business Guidance
Open workshop for help with CVs, job applications & career advice
| | | | |
| --- | --- | --- | --- |
| Saturday | 12:00p – 4:00pm | Creative Space | Enjoy your choice of creative activities in our fabulous fifth floor classroom |