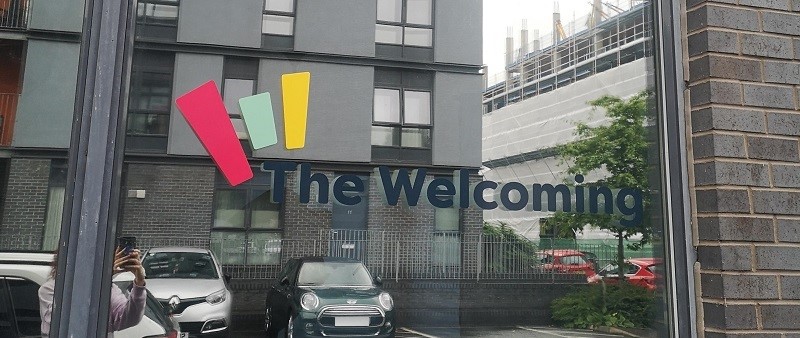 We are delighted to be reopening our office on a limited basis and expanding our hybrid approach to classes and activities. This means continuing to offer our services online, while creating more opportunities to connect in person.
The safety of our participants, volunteers and staff remains our top priority, and we will be monitoring the Covid-19 situation closely and following Scottish Government guidance. Any changes to our services will be announced on our website and on social media (Facebook, Twitter and Instagram).
Updates overview
Office: Reopening on a limited basis
English classes: In person (Beginner class only) and online
Friendship groups: In person (monthly) and online (weekly)
1-to-1 Befriending: New matches to be arranged soon
Employability: Appointments in person (Mondays and Tuesdays) and online (any day), sessions online (weekly), workshops online (monthly)
Living Well Lunch Club: In person (monthly) and online (weekly)
Home Energy and Recycling Advice: In person and online
Health and Wellbeing: New activities to be announced soon
Office reopening
We are excited to be reopening The Welcoming office to the public! From Monday 27th September, our office will be open from 10am to 2pm, Monday to Friday. Please book an appointment before visiting the office.
Book an appointment with a member of staff, email [email protected] or call us on 0131 346 8577.
English classes: New in-person class
From Tuesday 28th September, we will begin in-person English Beginner classes at The Welcoming. Classes will be every Tuesday, 10am-11.30am.

Spaces are limited due to safety measures. You must book a ticket to attend. You must also be a registered member of The Welcoming. Book your free ticket.
We will continue to provide our Beginners/Elementary, Intermediate, Upper Intermediate and New Scots English Beginner classes online.
We will also be running a short Reading Comprehension course during the autumn session. Dates and times will be announced soon.
For more information about our English classes, contact [email protected]
Befriending programme
1-to-1 Befriending: New matches coming soon!
Good news for all our eager befriending volunteers and future befriendees! Our new Befriending Programme Manager, Carrie McAlinden, has arrived and will soon be arranging the next round of matches.
For more information about 1-to-1 befriending, contact [email protected]
Befriending groups: Rebranded groups in person and online
Over the summer, we enjoyed outings to Saughton Park with the friendship groups. We are always listening to our participants and are aware of how valuable meeting in person is for New Scots to connect and build friendships.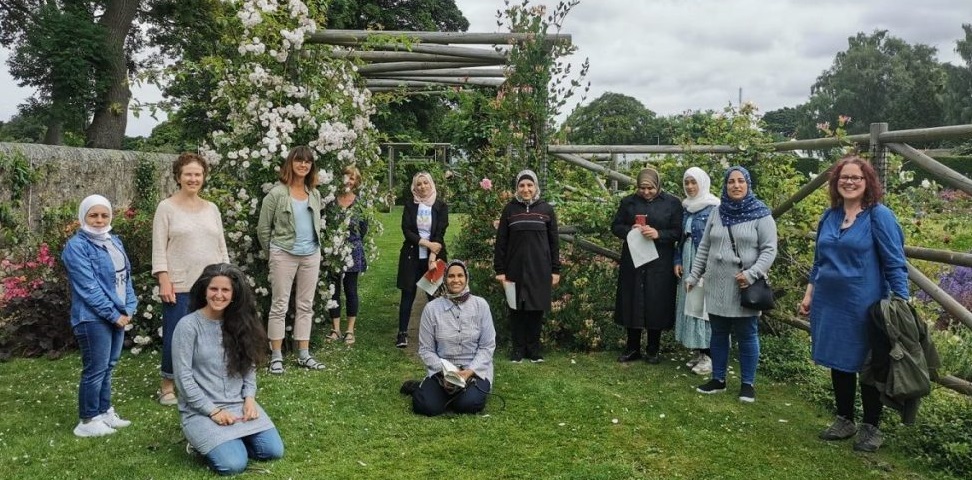 Going forward, our rebranded friendship groups will be held online and in person, as follows:
Women of the World: First Tuesday of the month, in person (6-8 Alexander Drive, EH11 2RT). Remaining Tuesdays of the month are online.
​Women's Friendship Group: First Wednesday of the month, in person (22a Saughton Hall Avenue, EH12 5RN). Remaining Wednesdays of the month are online.
Big Ideas: First Thursday of each month, in person (20/1 Westfield Avenue, EH11 2TT). Remaining Thursdays of the month are online.
For more information about our friendship groups, contact [email protected]
Employability: In person appointments and online workshops
We are offering 1-to-1 in-person employment, career and skills guidance on Mondays and Tuesdays at The Welcoming office. Online 1-to-1 sessions are available throughout the week.
You can also attend our three weekly online sessions:
Business Start-up Information Session (Tuesdays, 3.50pm – 4.30pm)
Employment and Skills Development Information Session (Wednesdays, 2pm – 3pm)
Benefit Entitlement Information session (Thursdays, 10am – 10.40am)
And two monthly online workshops:
CVs and Job Applications Workshop, first Thursday of the month (2pm – 3pm)
Interview Skills Workshop, last Thursday of the month (2pm – 3pm)
For more information about employment and business guidance, contact [email protected]
Climate action and sustainability: Activities, Community Fridge and Swap Shop
Our Living Well Lunch Club is meeting weekly on Mondays at 12pm, usually online but with one in-person activity per month. (Recently, the Club canoed along the Union Canal!)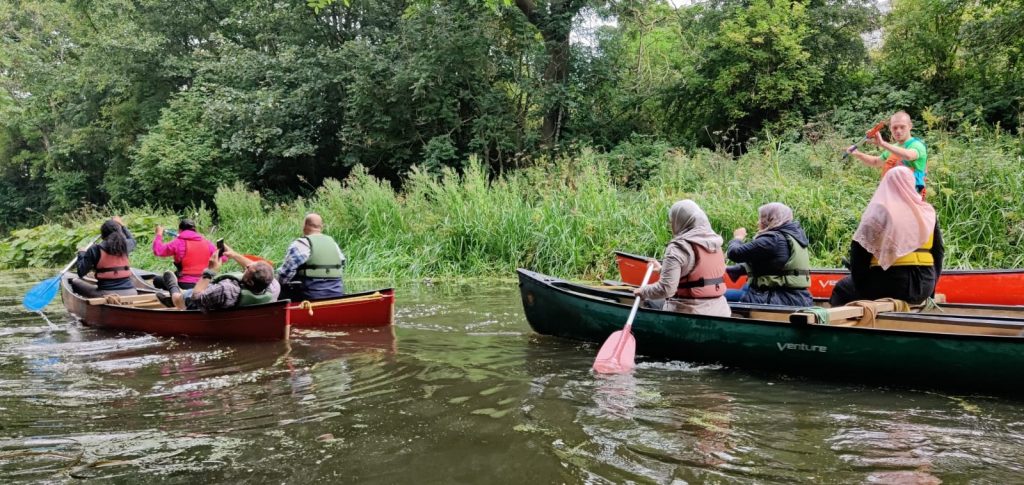 We are now resuming home visits for Home Energy and Recycling Advice. We will also continue to offer this service online. For example, we can provide support with the Warm Home Discount.
The Community Demonstration Garden is being cared for by our volunteers and so far this year we have harvested 30kg of produce.
Our Community Fridge is nearly ready to go! We will officially open the fridge to the public in October and will be accessible for members on Thursdays and Fridays.
We are also planning a community swap shop later in the autumn and will announce this on social media closer to the time.
For more information about our sustainability activities, contact [email protected]
Health and wellbeing: New activities to be announced!
In March 2020, we decided to put our health and wellbeing programme on hold due to the Covid-19 situation. We are pleased to announce our new Health Wellbeing Coordinator, Kyle Mackenzie, has joined the team and will be planning exciting wellbeing activities for New Scots.
For more information about our health and wellbeing programme, contact [email protected]
---
For updates on volunteering, please visit our Volunteer section.
We hope you are looking forward to the future of The Welcoming! We are excited for what is to come and will keep you updated on our social media channels and website.
Thank you
The Welcoming team

---
Covid-19 Health and Safety guidelines
In line with Scottish Government health and safety guidelines for Covid-19, The Welcoming is doing all it can to keep participants, staff and volunteers safe. Please read the guidelines below, and follow them when you access our services in person:
To keep safe, please:
Wait outside the building until your class, activity or appointment begins.
Avoid gathering in communal areas at The Welcoming, including the stairwell or lift.
Wear a mask when moving around the building and in class/activities.
Use hand sanitiser at the start and end of class/activities, and when visiting the bathroom.
Respect the space of others.
If you have come into contact with anyone with Covid-19 in the last week, or have any symptoms of Covid-19 (loss of smell, a runny nose and sore throat, a constant cough), please do not enter The Welcoming office or attend in-person activities.
The Welcoming's Services and Covid-19 Updates (Autumn 2021)