A look ahead to what's happening at The Welcoming over the next week…
Saturday 10 March, Creative Space
Join us on Saturday to enjoy a range of creative activities on our 5th floor at The Welcoming. There will be board games, arts and crafts, and music.
*One off event*
Sunday 11 March – International Women's Day Celebration
11am-3pm, St Brides Centre, 10 Orwell Terrace, Edinburgh
Come celebrate International Women's Day with us on Sunday 11th March! We'll be at St Brides Community Centre celebrating women's achievements with music, workshops and opportunities for each lady to pamper herself! Come along with your mum, your friends or your children –all are welcome!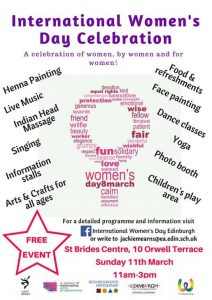 Monday 12 March, Open Book Reading Group
10am-12 noon, 5th floor at The Welcoming
Calling all book lovers! This friendly group is a great way to discover new books, meet new people and enjoy reading together.
Monday 12 March, Friendship Group
Every Monday, 3-4.30pm- spaces must be booked
We have a couple of spaces available for our  Friendship Group on a Monday afternoon. You must sign up for this session, and spaces are on a first come first served basis. This is a small, friendly and welcoming shared space where we will have conversation on a topic decided by participants on the day. If you are interested in attending, please email caitlin@thewelcoming.org by midday on Monday.
Monday 12 March, Jogging Group
Every Monday 6-7pm, meet at The Welcoming
Do you want to meet new people, explore new places and be a bit more active? Our fun, free and friendly jogging group could be for you! This group is suitable for beginners, we will be starting slowly and building up each week. There will also be regular jogging for those who have run with us before. If it is your first time with the group you will need to register with Jog Scotland, you can do this online beforehand.
Tuesday 13 March, Home Energy Advice
Every Tuesday, 12-1pm, 1st floor at The Welcoming 
Struggling with the cold weather? Do you have issues with draught, mould, heating system? Or maybe you just want to save a little money on energy bills? Take advantage of our free energy advice service. Order your Free Warmer Winter Kit, book an home visit or come in for a chat every Tuesday 12-1pm at the Welcoming.
*One off session*
Tuesday 13 March, Cafe Ceilidh
Meet at The Welcoming at 1.15pm, or at the Scottish Storytelling Centre at 2pm
On Tuesday 13th we'll be going to Café Ceilidh to hear some traditional Scottish Music and storytelling. If you're a musician, you can also bring your own instrument along and take part in the jam!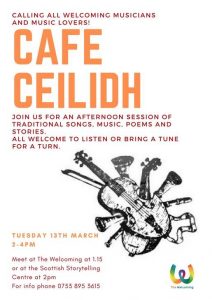 Tuesday 13 March, Table Tennis Tuesdays
Every Tuesday, 5-7pm, 5th floor at The Welcoming 
Have you been along to our Table Tennis Tuesday sessions yet? These open and self-led ping pong sessions are a great chance to meet new people, and practise a new skill.
Wednesday 14 March, Scotland for Newcomers – Botanic Gardens
Meet at The Welcoming at 3pm
Come and join us for a for a gentle walk around the beautiful Botanic Gardens as spring is just beginning! Meet at The Welcoming at 3pm (we have to leave at 3:05 !)  or… at the East Gate of the gardens EH3 5LP at 3:45pm.
Wednesday 14 March – Welcoming Choir 
5th floor at The Welcoming, 7.20-9pm
An international choir in the heart of Edinburgh. Whether you're new to the city or you've lived here for years, join us and help build a community choir together! The choir meets every Wednesday evening from 7.20pm – no previous choir experience is required. For the next two weeks the choir will be meeting at The Welcoming, as their normal rehearsal space is not available.
Thursday 15 March, Gym Session
Every Thursday, 3-5pm, Meet at The Welcoming
Join our new weekly gym and swim sessions, which will help you discover gym facilities in Edinburgh and will be a good way to meet new people. You will need to bring £1, and wear comfortable clothes. All abilities welcome!
Friday 16 March, Welcoming Lunch
Every Friday, 12.15 – 1.15pm, 1st floor at The Welcoming
We invite you to come along and join us for a Welcoming Lunch after class on the 1st floor. We will have lunch from Pret A Manger!
Friday 16 March, English Conversation Cafe
Every Friday, 1.30 – 3.30pm, 1st floor at The Welcoming
Conversation Cafe is a great way to practise your English in a relaxed informal setting.
*One off event*
Saturday 17 March – Edinburgh Climate Festival
11am – 3pm, Out of the Blue Drill Hall, Dalmeny Street, Leith
This year the Climate Festival is centred on #PassitOnWeek. It is a family friendly festivity that aims at bringing diverse communities together around the theme of the environment, food growing, active travel, energy efficiency, and waste reduction.There will be a range of family activities on throughout the day.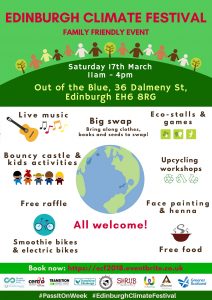 *One off event*
Sunday 18 March – Lyceum Theatre Information Session 
10am-12pm, Lyceum Theatre
The Lyceum Theatre are inviting all Welcoming participants to be part of their new play: they are looking for non-professional actors to do a non-speaking performance in their upcoming play "The Hour we knew nothing of each other". You can find out more information here, and if you want to attend their information sessions with a group of other Welcoming participants on Sunday 18th March 10am-12pm please get in touch with Victoria on 07538 953 915 or email victoria@thewelcoming.org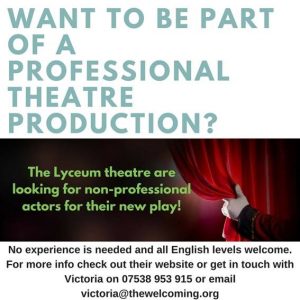 Every Day at The Welcoming – English language classes
See our timetable for all the details.
What's on at The Welcoming 10th-17th March